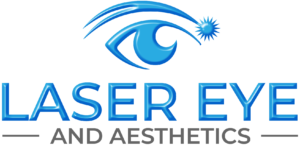 London, ONTARIO – April 11, 2023 – Having an eye on the future, leasing activity builds momentum at Westmount Shopping Centre, London with the announcement of Laser Eye and Aesthetics joining the unique mix of new tenants. In the coming months, the property will reposition itself to a mixed-use development that will be known as Westmount Commons.
Proudly managed by McCOR Management (East) Inc., in partnership with investors CCI Corpfin Capital Inc. and KingSett Capital Inc., the dramatic evolution will see the property come to life during this multimillion-dollar development.
"We are extremely thrilled to welcome Laser Eye and Aesthetics to the exciting Westmount project," says Luc Corneli, Principal and Founder of McCOR Management.  "Our vision for a mixed-use development, that will better serve the needs of a changing community, continues to evolve as the development project progresses."
"Laser Eye and Aesthetics is your state-of-the-art eye and aesthetic surgical centre. We offer refractive cornea (LASIK, PRK, SMILE), refractive lens based (cataract and refractive lens exchange), and other eye surgeries," says Dr. Bo Li, Medical Director of Laser Eye and Aesthetics.  "We strive to achieve three things:  (1)  best surgical results for patients from your local sub-specialists, (2)  most in-depth co-management/collaboration with our local optometry doctors, and (3) cutting-edge innovations through research and academia."
Laser Eye and Aesthetics is anticipated to open in Westmount Commons May 2023.
For more information and interview requests, please contact:
April Herlick
Property Manager, Westmount Commons  519 641 0976
OR
Kendra Morrison
Manager, Laser Eye and Aesthetics 226 884 2020
About Westmount Shopping Centre
In the heart of Canada's first planned community, originally developed by legendary builder Mowbray Sifton, in London, Ontario, Westmount Shopping Centre is being reimagined by McCOR Management in partnership with CCI Corpfin Capital Inc. and KingSett Capital.  Rolling out over three phases, Westmount will be reborn as a community hub to support the needs of an active and engaged neighbourhood – a place to live, work, learn, play, and shop.  The Westmount project is poised to help write the next great chapter in mixed-use development.
About LEA
Laser Eye and Aesthetics is a London-based, cutting-edge Surgical and Aesthetic Centre with the most up-to-date diagnostic and surgical technologies available for our patients.  Dr. Bo Li (our medical director) and his team strive to provide exceptional care, knowledge and outcomes for patients needing Refractive Cataract Surgery, Refractive Lens Exchange, LASIK, PRK, SMILE, and Aesthetic Procedures.  All surgeons at Laser Eye and Aesthetics will be local sub-specialists.  Our surgeons are international renowned, academic-oriented, and best of all, local and available just a phone call away.  It will be our privilege to be part of your vision-changing and life-changing surgical eye care.
About McCOR Management
McCOR Management has offices in Calgary, Edmonton, Gatineau, Regina, Toronto, Vancouver, and Winnipeg, offering the national reach needed to best serve leading investors and occupiers whilst retaining the local expertise to accommodate smaller firms and sole proprietorships competitively.  The formation of McCOR Management creates one of Canada's largest privately-owned real estate development and property management companies, with over $3 billion of assets under management.
For further information about McCOR Management, visit www.mccor.ca
For further information about CCI Corpfin Capital, visit www.corpfincapital.ca
For further information about KingSett Capital, visit www.kingsettcapital.com