McCOR's proactive approach to property management garners the highest levels of tenant satisfaction, ensuring our clients' operations run smoothly and efficiently allowing for optimal profits and increased value.
From outstanding advice to industry-leading implementation, McCOR's retail expertise and experience realizes projects of varying size and complexity, from conception to full occupancy.
McCOR offers comprehensive and extensive residential services for new multi-family builds in select cities. From conception to full occupancy, we are dedicated to our clients every step of the process.
Mayflower Mall
The Landlord was notified that Walmart would not be renewing their lease and would seek to find a free standing site to build their prototype location. The property looked tired and attracting new tenants was becoming a challenge. Due to a lack of specialty retailers, there was a loss of sales to other markets.
Click to read more about how we transformed the mall.
Westmount Commons
Westmount Commons was a 535,000 SF, 2 level fashion mall with a vacant Target and a Sears which was about to close. Located in London, Ontario, which is already over retailed, losing both anchors would have been highly problematic for the centre. At the time of purchase there was already a high vacancy rate.
Click to read more about how we transformed the property into a thriving mixed-use community.
McCOR'S VALUE ADD TO REAL ESTATE PORTFOLIOS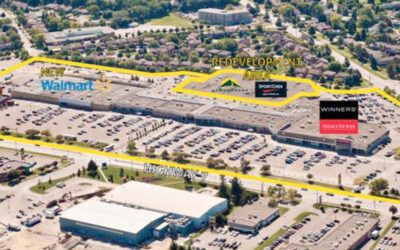 SITUATION Zellers was closing as a result of the Target entry into Canada. In addition, Walmart informed the owner that they were not renewing their lease and were considering leaving the centre. The centre was over anchored and offered a reduced mix of retail and...