We're hiring a skilled Property Manager for our Mississauga portfolio!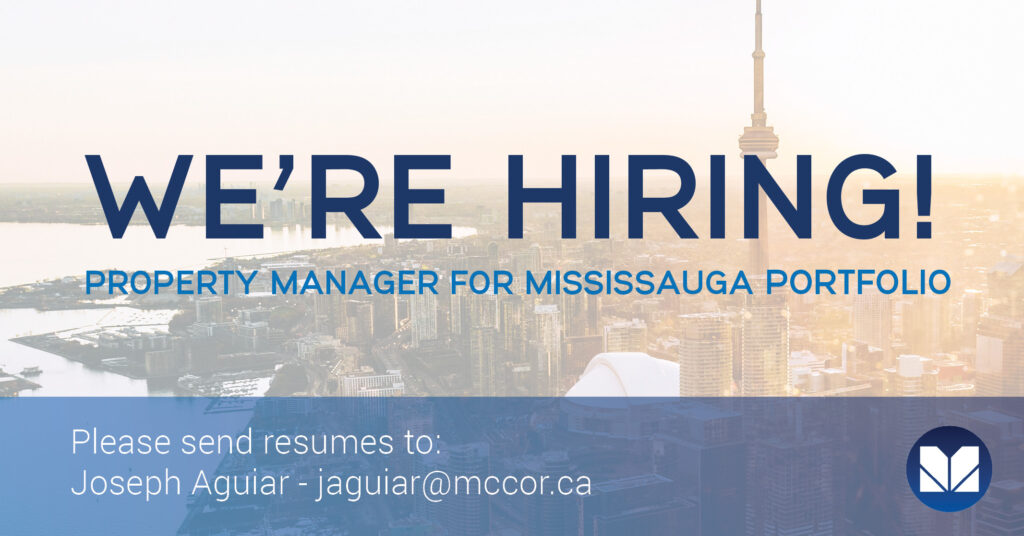 SUMMARY
Reporting to the Regional Property Manager, this position will be responsible and accountable for day to day property operations; including accounting, tenant relations, maintenance and repair, security, janitorial services, landscaping, snow removal, etc. additionally, overseeing and enhancing the value of the property. This senior position supports and assists in the management of commercial real estate in accordance with the Management Agreements. This portfolio may support the Greater Toronto Area, (Ontario), New Brunswick, Nova Scotia or Newfoundland.

Attributes:
The incumbent should exhibit exceptional communication, verbally and written. Excellent organizational skills; detail oriented and accurate especially with numbers; customer service experience; ability to work under pressure; self-motivated and self-directed; ability to assert oneself; exemplary time management skills; ability to work with staff in solving problems and ability to take direction and function as part of a team.

FUNDAMENTAL DUTIES
Provide excellent tenant service. Respond to tenant requests/problems in a timely and courteous manner, and generate work orders directed to vendors and/or maintenance staff. Follow-up with the tenant to ensure satisfactory resolution of the issue. Ensure that there is a 24 hour emergency coverage for the property at all times.
Landlord and Tenant Coordinator.
Ensure that property and lease files are properly maintained and kept up to date in accordance with company policy. Prepare and maintain appropriate tenant lease files, records, correspondence and file notes.
Assist with administering tenant occupancy including providing the new tenant with an introduction letter regarding emergency contacts, insurance requirements, rent collection procedures, and maintenance request procedures.
Maintain office clerical, filing and record keeping systems.
Coordinate production and ordering of signs, tenant identification, etc.
Coordinate regular inventories of all business property.
Detailed verification of all invoice amounts and information with approved Service Orders or Contracts.
Ensure proper coding on invoices.
Investigate cost reduction opportunities.
Ensure the unsafe conditions are corrected in a timely manner.
Direct staff to follow "safety first" practice.
Supervise entire on-site staff (i.e. Assistants, Regional Property Managers, Service Technicians(s), Groundskeeper(s), Painter(s) and general office staff.
Conduct performance evaluations on immediate reporting staff.
Involved in the decision process for providing training and professional development.
QUALIFICATIONS
Education:
A Bachelor's Degree.
Property Management Certificate will be considered an asset.
Post-Secondary education in real estate and/or CPM designation.
Required:
Valid driver's license and driver's insurance (must be able to provide drivers' abstract).
Frequent need (50% or greater) to utilize personal transportation to inspect rental properties, identify concerns and trips outside of the province as required.
Be Bondable (have never declared personal bankruptcy).
5 years or greater of property management experience in either residential or commercial portfolios.
Advanced knowledge of Word, Excel, Microsoft Office, e-mail and working knowledge of Yardi accounting system.
Decision Making
Able to resolve problems using facts and sound reasoning.
Able to achieve goals using a strategic approach.
Proven innovation with a willingness to manage and adapt to change.
If this opportunity interests you, please send your resume to jaguiar@mccor.ca