Partnering with one of the most active developers in Alberta
WINNIPEG, Manitoba – September 2, 2021 – With continued growth an ongoing objective, McCOR Management is pleased to announce they have been awarded a management contract by Melcor Developments Ltd. for their Calgary portfolio. McCOR will be adding the newest Calgary portfolio to their western commercial and office properties they currently manage located in Winnipeg, Vancouver, Regina, and North Vancouver.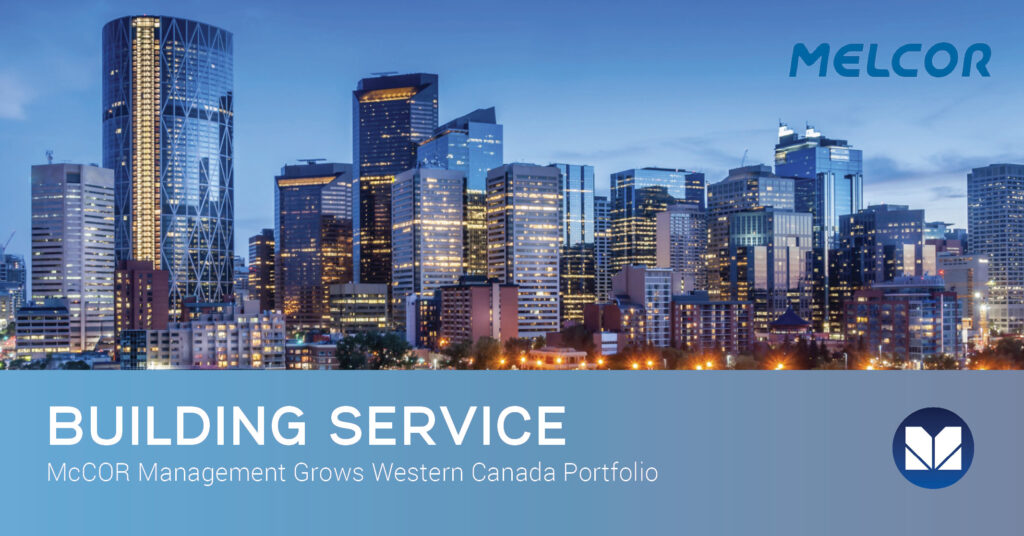 Doug McDonald, Principal and Founder, McCOR Management states, "Melcor is an outstanding long-term client of McCOR. Just a few years back we expanded our relationship in Saskatchewan and now most recently Melcor has entrusted us to represent them in Calgary. We are so appreciative of their business and of their support."
Melcor Developments Ltd. is a family real estate business founded in 1923 that spans four generations and affirms their values and their belief that relationships are the cornerstone of their business. A fully integrated real estate development and asset management company, Melcor is one of the most active developers in Alberta.
"I am pleased to announce that McCOR Management has taken on the day-to-day property management of our Calgary and area portfolio," says Bob Brown, Vice President, Investment Properties Division, Melcor Developments Ltd. "We are confident, with their proven track record and our long-standing relationship, that they will do an excellent job and our clients will continue to experience exceptional customer service."
The management contract for the Calgary portfolio began July 1, 2021, and consists of approximately 500,000 square feet of office, retail and industrial space with continued growth anticipated.
For more information and interview requests, please contact:
Doug McDonald, President & CEO/Principal, McCOR Management
204-947-2242
OR
Bob Brown, Vice President, Investment Properties Division, Melcor Developments Ltd.
780-945-4796
About McCOR Management
McCOR Management has offices in Calgary, Edmonton, Gatineau, Regina, Toronto, Vancouver, and Winnipeg, offering the national reach needed to best serve leading investors and occupiers whilst retaining the local expertise to accommodate smaller firms and sole proprietorships competitively. The formation of McCOR Management creates one of Canada's largest privately-owned real estate development and property management companies, with over $3 billion of assets under management.
For further information about McCOR Management, visit www.mccor.ca
About Melcor Developments Ltd.
Melcor is a diversified real estate development and asset management company with a rich heritage of innovation in real estate since 1923. Through integrated operating divisions, Melcor manages the full life cycle of real estate development: acquiring raw land, community planning, construction and development, and managing revenue producing office, retail and residential assets. Melcor develops and manages mixed-use residential communities, business and industrial parks, office buildings, retail commercial centres and golf courses.
Melcor is committed to building communities that enrich quality of life – communities where people live, work, shop and play. For further information about Melcor Developments Ltd., visit www.melcor.ca