Travel through jungles, deserts and the wilds of Canada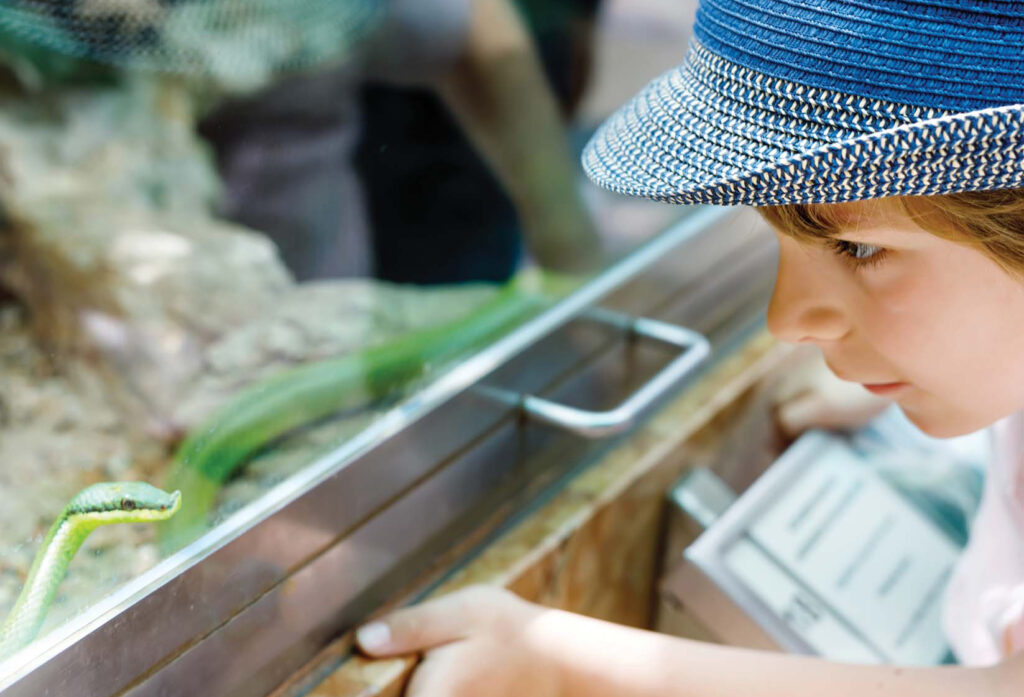 LONDON, Ontario – July 22, 2021 – Experiencing an entire world of mysterious creatures at one of Canada's largest indoor reptile facilities will soon be a reality as Westmount Shopping Centre, London continues to reposition over the coming months to a mixed-use development; Westmount Commons.
Proudly managed by McCOR Management (East) Inc., in partnership with investors CCI Corpfin Capital Inc. and KingSett Capital Inc., this multi-million dollar redevelopment will see a dramatic evolution come to life at this historic property.
Reptilia Zoo, a CAZA-Accredited Facility (Canada's Accredited Zoos & Aquariums) focusing on animal representation, education, and conservation anticipates an early Fall opening. Hosting over 250 species of reptiles, amphibians and arachnids in this unique adventure land, Reptilia's announcement is pivotal as redevelopment activity renews at Westmount.
"We are very pleased to welcome Reptilia to the Westmount project as our vision of a re-imagined mixed-use development continues to evolve," says Luc Corneli, Principal and Founder of McCOR Management.
Guests will have the opportunity to learn about amazing creatures that have been saved and rescued or received from other zoos, through engagement, educational exhibits and attending shows or tours as well as scheduled feedings. Animal ambassadors will be safe to meet, under the supervision of skilled Cast Members, in the secured, escape-proof facilities throughout the day.
"We are excited to be a part of the Westmount development project and overall future vision," said Travis Small, Chief Operating Officer of Reptilia Zoo. "We're looking forward to welcoming the community to our reptile zoo and conservation centre and sharing our knowledge and appreciation of the amazing reptiles, amphibians and arachnids from around the world."
For more information and interview requests, please contact:
April Herlick,
Property Manager, Westmount Commons 519 641 0976
aherlick@mccor.ca
OR
Travis Small
Chief Operating Officer, Reptilia Zoo 226 921 1190
travis.small@reptilia.org
About Westmount Shopping Centre
In the heart of Canada's first planned community, originally developed by legendary builder Mowbray Sifton, in London, Ontario, Westmount Shopping Centre is being reimagined by McCOR Management in partnership with CCI Corpfin Capital Inc. and KingSett Capital. Rolling out over three phases, Westmount will be reborn as a community hub to support the needs of an active and engaged neighbourhood – a place to live, work, learn, play, and shop. The Westmount project is poised to help write the next great chapter in mixed-use development.
About Reptilia
Unlike domestic animal shelters, there are few options for unwanted or rescued reptiles needing a new home. Reptilia Reptile Kingdoms are Canada's largest indoor reptile facilities committed to finding lifelong homes for reptiles which cannot be released to the wild. With locations in Vaughan and Whitby (and London in 2021), each CAZA-Accredited facility offers an experience that focuses on animal representation, conservation, and education to the Earth's most elusive and mysterious residents.
About McCOR Management
McCOR Management has offices in Calgary, Edmonton, Gatineau, Regina, Toronto, Vancouver and Winnipeg, offering the national reach needed to best serve leading investors and occupiers whilst retaining the local expertise to accommodate smaller firms and sole proprietorships competitively. The formation of McCOR Management creates one of Canada's largest privately-owned real estate development and property management companies, with over $3-billion of assets under management.
For further information about McCOR Management, visit www.mccor.ca
For further information about CCI Corpfin Capital, visit www.corpfincapital.ca
For further information about KingSett Capital, visit www.kingsettcapital.com