Realties platform expands West
April 26, 2021 – Winnipeg, MANITOBA – Our Team continues to grow! McCOR is pleased to announce the addition of industry veteran Ken Yee to lead McCOR's Western leasing and capital market initiatives as well as provide support to our national leasing team.
"Ken is highly respected in the real estate industry and we're pleased to welcome him to our growing team," said Luc Corneli and Doug McDonald, Founders and Principals of McCOR Management. "He's a perfect fit and we look forward to working with Ken to expand the Western retail platform."
The addition of Ken Yee certainly helps McCOR by adding in leasing and sales to our management component says Curtis Loewen COO of McCOR.
Bringing over 30 years experience in comprehensive real estate expertise and guidance, Ken's transactional knowledge gained while with Cushman & Wakefield in retail leasing, development and sales garnered over one million square feet of retail development and leasing while brokering over $1B in investment transactions, demonstrating his indepth skill sets provided to clients. Ken's commitment to the needs of his clients has earned him a reputation as a dedicated, results-oriented, skilled negotiator.
Ken has successfully obtained exclusive site procurement mandates from national retailers such as Save on Foods, Safeway, No Frills, Shoppers Drug Mart, Mark's Work Wearhouse, Goodlife Fitness, Royal Bank, TD Bank, and BMO. In addition, other notable career achievements include the assembling, leasing and disposition of the 450,000 square foot landmark Kenaston Common, 125,000 square foot Bridgwater Town Centre, 180,000 square foot demall of the Northgate Shopping Centre and the arena-centric, Centrepoint development near Bell MTS Place in Winnipeg.
"I have always had a passion for thinking outside-the-box with the goal of creating engaging retail environments and experiences. This is a good fit for me at McCOR and I'm truly excited for the opportunities ahead of us as retail real estate resets post-pandemic" said Yee.
McCOR has been an industry leader in repositioning a variety of assets across Canada using its many Value Add approaches to Management and Leasing.
For more information on Western leasing and capital market initiatives for McCOR , please contact: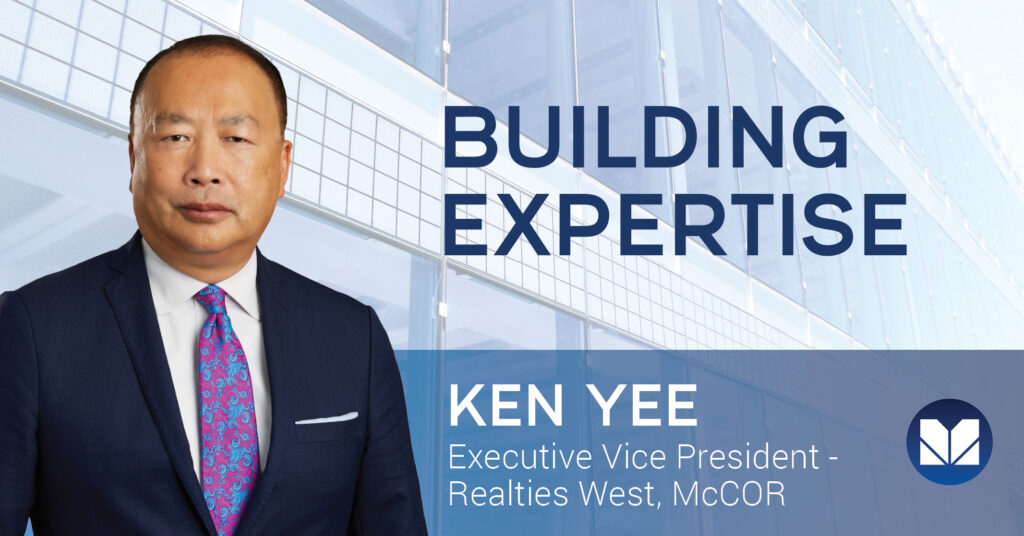 Ken Yee
Executive Vice President – Realties West, McCOR
Kyee@mccor.ca
t: (204) 594 – 9941
c: (204) 294 – 9789
About McCOR
McCOR Management has offices in Calgary, Edmonton, Gatineau, Laval, Regina, Toronto, Vancouver, Yellowknife and Winnipeg, offering the national reach needed to best serve leading investors and occupiers whilst retaining the local expertise to accommodate smaller firms and sole proprietorships competitively. The formation of McCOR Management creates one of Canada's largest privately-owned real estate development and property management companies, with over $3-billion of assets under management.