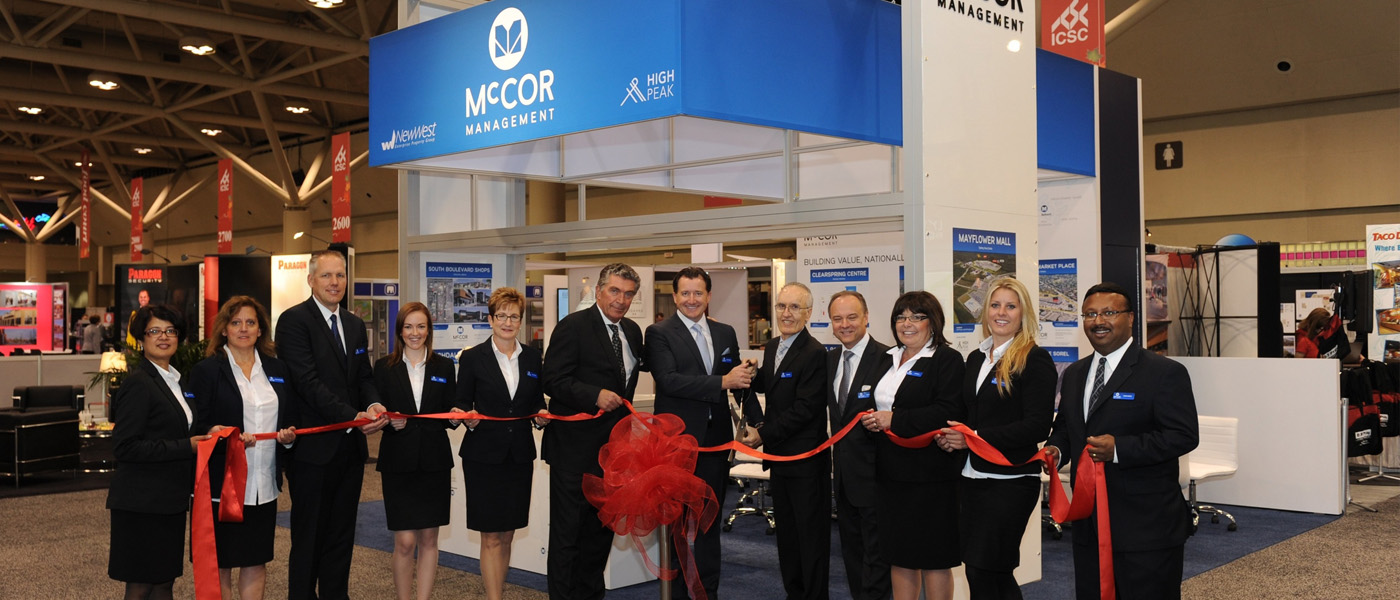 McCOR Management and its co-founders and principals, Luc Corneli, Doug McDonald and Gregg Fera will be at the International Council of Shopping Centers (ICSC) Convention beginning on September 22, 2014 and will host a ribbon-cutting ceremony at 9:00 a.m. and cocktail reception at 3 p.m. on Tuesday, September 23 at the McCOR Management booth (#2221).
Representatives from the High Peak Group of Companies and NewWest Enterprise Property Group have announced that the two companies are in the process of merging to form McCOR Management.
High Peak, with its national portfolio and extensive presence in Eastern Canada, is currently a leading force in retail real estate development. NewWest, headquartered in Winnipeg with four regional offices serving Western Canada, offers extensive expertise in commercial real estate management. The formation of McCOR Management creates one of Canada's largest privately-owned real estate development and property management companies, providing the national reach needed to best serve leading investors, tenants, and property owners while retaining the local expertise to accommodate smaller firms and sole proprietorships competitively.
"We wanted to build a company that could compete at a national level while maintaining our hands-on approach," says Luc Corneli, President and CEO, High Peak. "As we grow our portfolio in Canada, we will continue to use our collective decades of industry experience in the areas we serve."
Through a fully integrated suite of services and diverse team of disciplined and experienced real estate professionals, McCOR Management will offer clients the ability to direct and manage all facets of their real estate portfolio with a clear focus on enhancing the value of real estate assets. Areas of service include facility and property management, leasing and leasing administration, development, brokerage, and advisory services. With over five decades of combined real estate experience, co-founders and presidents Luc Corneli and Doug McDonald will lead the McCOR team in managing a portfolio in excess of $3-billion in assets.
"The combination of High Peak's retail redevelopment and repositioning expertise with NewWest's commercial management capability expands the scope of our service offerings and sector knowledge," said Doug McDonald, President and CEO, NewWest. "It enables both companies to realize our joint vision of creating a national real estate services company that builds tangible value into every project."